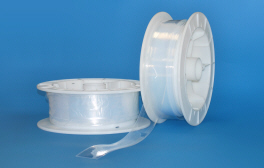 Features
Heat-shrinkable tube made by stretching fluorine resin FEP continuously.
Continuous stretching process enable the production of long products, and it also enable to give excellent properties of the fluorine resin easily with low manufacturing cost.
Separability
Chemical resistance
Weather resistance
Application Examples
It can be applied to prevent separation of guide rollers, scattering of fluorescent tubes, and to protect manufacturing jigs, etc.
【Size sample】
Item code

Target dia.

Inside dia.
before shrinkage(mm)

Inside dia.
after shrinkage(mm)

Thickness
(μm)

Packing shape

Packing material

TST34
32.5
> 33.5
< 29.0
250
Scroll
FEP
TST30
28.0
> 29.5
< 25.5
200
Scroll
FEP
TST27
25.5
> 26.5
< 23.0
200
Scroll
FEP
NOTES
It is possible to set diameter within the range of 25φ~40φ, wall thickness 100μm ~ 250μm, and shrinkage rate 10%~ 15%.
Please contact us regarding the shrinkage rate because it can be varies from the balance of inner diameter or thickness.
Contact us for regarding requirements that exceed the specifications in the above table.