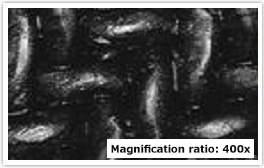 Features
A high-density net woven by PFA fiber.
Because it woven with fiberized PFA resin, the net has features of fluoro resin such as heat resistance, chemical resistance, separability, etc.
【Specifications】
Article number

Standard

Fiber dia.
(μm)

Thickness
(μm)

Standard width
(mm)

Max length
(m)

NET
50μm-300mesh
50
100
1000
200
Standards other than the above such as 30μm-150mesh is also manufacturable.
Contact us for regarding requirements that exceed the specification in above table.
【Data】
Unit

Test method

Direction of the product

50μm
300mesh

Fiber dia.
μm
50
Thickness
μm
100
Knit density
Strads/inch
MD
300
Knit density
Strads/inch
TD
300
Mesh-opening
mm
0.02
Mesh adhesion
g/m2
40
Voids
%
4%
NOTES
The values given above are measured values, not guaranteed values.