Perfect for roller coverings!
Fluoro resin heat-shrinkable tube that provides excellent durability.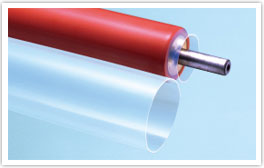 Features
GRC is a heat-shrinkable tube made from PFA and FEP fluoro resin, and has been developed for use as a roller covering.
By simply heat-shrinking GRC onto a roller surface, the roller inherits the highly-functional characteristics of fluoro resin.
Electrical insulation
Non-adhesive surface resists contamination
Chemical resistance
Applications
Photocopiers and printers
Paper manufacturing and paper product manufacturing (paper and adhesive tape manufacturing machines)
Film and sheet processing machines (laminators, and magnetic tape manufacturing machines)
Textile and dyeing equipment (dyeing and resin processing equipment)
Printing machinery (high-speed offset rotary press and printing machines for business forms)
Insulation (electrical cables)
Industrial machinery (printed circuit board, semiconductor, and FPD related equipment)
Specifications
Item
Code

Inside dia.
(mm)
Before shrinkage

Inside dia.
(mm)
Aftrer shrinkage

Thickness
(mm)

Standard
length
(mm)

Special
length
(mm) Note1

Material

17P
19
16.5
0.5
1200
3600
PFA
20P
21
18.5
0.5
1200
3600
PFA
22P
24
19.5
0.5
1200
3600
PFA
25P
26
21.5
0.5
1200
3600
PFA
27P
30
24
0.5
1200
3600
PFA
30P
33
27
0.5
1200
3600
PFA
35P
36
28.5
0.5
1200
3600
PFA
40P
43
35
0.5
1200
3600
PFA
50P
51
40
0.5
1200/1800
PFA
55P
57
49
0.5
1200
PFA
60P
63
50
0.5
1200/1800
3600
PFA
65P
67
54
0.5
1800
PFA
70P
71
61
0.5
1800
PFA
75P
75
61
0.5
1800
PFA
80P
81
64
0.5
1800
PFA
85P
91
74
0.5
1800
PFA
95P
98
82
0.5
1800
PFA
100P
106
85
0.5
1800/3600
PFA
105P
109
86
0.5
1800
PFA
115P
117
96
0.5
1800
PFA
125P
127
106
0.5
1800/3600
PFA
130P
136
107
0.5
1800/3600
PFA
140P
144
125
0.5
1800
PFA
150P
154
125
0.5
1800/3600
PFA
160F
163
131
0.5
3600
FEP
170F
174
133
0.5
3600
FEP
180F
190
163
0.5
4000
FEP
200F
206
164
0.5
4000
FEP
215F
220
166
0.5
4000
FEP
230F
235
185
0.5
4000
FEP
240F
249
187
0.5
4000
FEP
250F
259
206
0.5
4000
FEP
265F
278
245
0.5
4000
FEP
280F
298
246
0.5
4000
FEP
300F
316
247
0.5
4000
FEP
Note1: Ordered long-size product might have die mark as a result of forming.
Please check at your side beforehand especially on the condition that surface accuracy is necessary.

NOTES
When making inquiries or placing an order, be sure to supply us with the accurate roller diameter and length so that we can select the optimum tube for your application.
Cut length is 400 mm or above, with a pitch of 100 mm. Any quantity of tube order is welcome.
Please store the tubing in a cool and dark location (30℃ or below). At higher temperatures, there is a possibility that the tube will shrink.
P indicates a PFA product, and F indicates a FEP product.
The inside diameter after shrinkage is the measurement made after heating to 200℃ for 10 minutes. It is not a guaranteed value.
If GRC is used in places where the temperature exceeds 100℃ or where the nip pressure is too high, there is a strong possibility that the GRC may slip or cause wrinkle. Consult Gunze regarding such cases.
How to Apply GF Tube
Construction Method
Illustration
Please use the heat gun on the market.
Please choose inside dia, which is nearly roller's diameter. The length of GRC that is around 200mm longer than the length of roller is preferable.
POINT
Spin the roll at constant speed.
Shrink GRC from one side. The standard temperature of heat air is 150~200℃ at the surface of GRC.
Heat rollgun's direction is opposite direction to movement's direction to prevent air bubble.
Please contact for construction technique of tube with large size dia. we prepare for the detail guidances about tube.
Please contact for installation.
VIDEO
FAQ
Is it possible to borrow construction tools?

Yes, you can rent from us. (※Only in Japan)

We do not have confidence in the construction. Is it possible to ask Gunze to give us a construction?

Yes, we could carry out construction guidance free of charge only once at the first time.

Is it possible to give construction to an irregular (oval, square, triangle / stepped, arched) roll?

Since the shrinkage ratio of the tube is low, conformability to the shape will be limited. Please ask us for details.

Is there a limit to the material of rollers?

Since there is a risk of thermal deformation, we do not recommend low heat resistance materials such as polyurethane foam.

How to deal with the end of the roller?

Please do not cut off the tube by the roller's length. Leaving the tube slightly longer than the roller and then shrink to be smaller than the roller's diameter.

Is it possible to cut the tube easily by scissors?

It can be cut off easily by scissors or cutter. However, please be careful to cut the tube along the longitudinal direction in order not to leave cut marks.

Is it possible to wipe the tube with solvent?

Yes, it is possible.

Is it possible to use an adhesive or tape to connect the tube?

No, it is impossible.

Is it possible to repair the entrainment of air bubbles?

It is not possible to repair completely. Please contact us for simple repair method.

How about the endurance of tubes?

It might be different depending on customer's usage.

Is it possible to bond tubes and rolls by adhesive processing?

It is impossible in our company. We will introduce a professional.