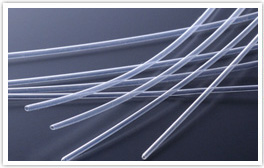 Features
Micro-diameter heat-shrinkable tube made from FEP fluoro resin, is a product that is finer than our conventional catalog products. (Inner diameter after shrinking is less than 1.3Φ.)

It inherits the characteristics from fluoro resin such as heat resistance, chemical resistance, releasing property, insulation resistance and weather resistance, etc. It can be applied to various fields such as electronic components, mechanical parts, sensors, medical products, high-temperature insulating member, resin mold member, etc.
Application Examples
Give the features of chemical resistance and insulation property to small-diameter sensor terminal or lead wire.
Mold member for cylindrical resin molding, etc.
Specifications
Item code

Inside dia. before shrinkage
(mmΦ)

Inside dia. after shrinkage
(mmΦ)

Thickness
(mm)

Cut length

Material

0.5F
>0.6
<0.5
0.2
1000mm
FEP
0.6F
>0.7
<0.6
0.2
1000mm
FEP
0.7F
>0.8
<0.7
0.2
1000mm
FEP
1.0F
>1.1
<0.9
0.2
1000mm
FEP
1.3F
>1.4
<1.1
0.2
1000mm
FEP
NOTES
Contact us regarding requirements that exceed the specifications in the above table.
Contact us regarding long-sized/PFA/high shrinkage/conductive/colored products.