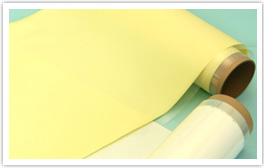 Features
Gunze's polyimide insulation/ heat dissipation adhesive sheet, is a strong adhesive sheet that has the features equivalent to PI (polyimide) such as heat resistance, insulation, heat dissipation and abrasion resistance.
By satisfying both heat dissipation and insulation by the filler dispersion, in addition to insulation in high-temperature environment, it also combines the heat dissipation characteristic which the normal plastic material does not have.
Adhesiveness appears after softening by heating of 200℃/ 5min (heating temperature and time depend on the conditions).
There are several different types of flexibility and heat resistance, we will provide the best solution to suit your applications.
Application Examples
Insulation of batteries/ inverter
Foundational insulation of the power device
Others, as heat-resistant insulation material, etc.
【Sample size】
Shape

Size

Thickness

Sheet
A5 (148 × 210mm)
A4 (210 × 297mm)

30μ~100μm
Roll
Width 350mm × 5m (Prototype max size)
30μ~100μm
【Material characteristics】
Evaluation method/ Sample details

Unit

A-type

B-type

Thermal conductivity
W/(m・K)
1.0~3.0
1.0~3.0
Insulation (breakdown voltage: 2W-50μm film)
kV
>2.5
>2.5
Heat resistance (TGA5% decomposition temperature)
℃
~320
~360
Adhesiveness
(Anti-adhesion treated copper foil / Pressing conditions: 1.0MPa/150℃)
N/cm
5~10
5~10
Elastic modulus
GPa
around 0.5
around 2.0
NOTES
These are representative value of A-type, B-type. We can customize various properties according to your requirements.
Through our molding technology, it is possible to mold the heat dissipation/ insulation PI (polyimide) directly onto metal materials, etc.