Thin tubing made possible by Gunze technology!
Fluorine-contained resin tube with a wide range of applications.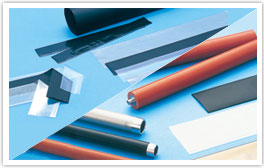 Features
NST/SMT are tubular film made of PFA/ FEP fluoro resin.
Varieties of thin tubes are available, eg. Purity type, PB type for controlled electric resistance, Heat dissipation type and inner surface etching type.
NST is non-shrinkable tube, and SMT is shrinkable tube.
Applications
Heating rollers in photocopiers and printers, pressure rollers and electrified rollers
Packing material
Preventing fluorescent tube scattering
Resisting contamination for molding applications
Specifications
Article number

Inside dia.
(mmΦ)

Thickness
(μm)

PB Type

Etched

NST
10~150
15~150
○
×
NSE
10~100
20~110
○
○
SMT
8~60
15~150
○
×
SME
18~60
30~110
○
○
NOTES
Forming size varies according to combination of those, inner dia., thickness and length.
SMT shrinks between 8 to 12% in circumference when heated to between 180 to 290℃.
Contact us regarding on etching.