February 9, 2017 — Gunze Limited was recently awarded the Japanese government's "Medal with Dark Blue Ribbon*" in recognition of the company's efforts providing relief supplies through the Japanese Red Cross to aid the victims of a June 27, 2015 explosion at Formosa Water Park in New Taipei City, Taiwan. Informed of the accident, Gunze's Medical Division donated PELNAC collagen-based artificial dermis to the Japanese Red Cross to include in relief supplies. The donated artificial dermis was supplied to 16 local hospitals that allowed each to treat approximately 10 to 30 people. For its assistance, Gunze received a letter of appreciation from Taiwan's Tri-Service General Hospital through the Japanese Red Cross in January 2016. Following the company's founding philosophy, Gunze continues to contribute to societies worldwide through its various activities.
* The Medal with Dark Blue Ribbon is awarded by the Japanese government to individuals and companies/organizations that have made exceptionally generous financial contributions for the public good.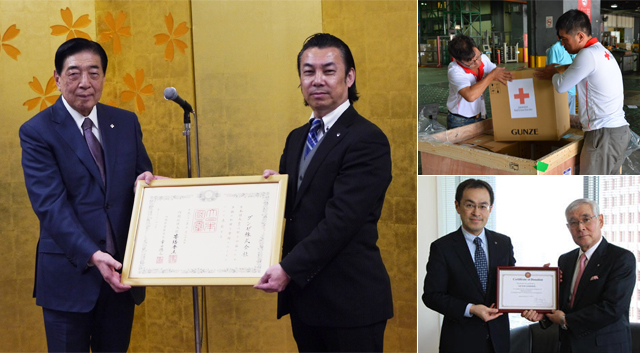 (Photo at left) Award ceremony
(Photo at above right) Artificial dermis parcels arriving at airport in Taiwan (Photo courtesy of Japanese Red Cross)
(Photo at bottom right) Letter of appreciation from Tri-service General Hospital in Taiwan
Outline of assistance
Relief supplies

PELNAC collagen-based artificial dermis
Quantity

About 500 pieces (about 47,180cm²), value JPY 23 million
[Reference] Gunze's Medical Business
Gunze's medical business was launched in 1986 with the first commercialization of bioabsorbable surgical suture thread in Japan. Developed drawing on Gunze's accumulated textile technology expertise, the product eliminates having to remove post-surgery sutures. Gunze's medical business continued to expand centering on reinforcement felt, bone fixation devices, and other bioabsorbable materials and devices. Gunze's collagen-based artificial dermis was marketed under the PELNAC brand name in 1996, and is available in Japan, South Korea, China, Brazil, South Africa, Taiwan, Europe, Middle East, and other regions.
Inquiries:
Inquiries from media

Public Relations IR Office (Osaka)
TEL:06-6348-1314(Ogura · Tanigawa · Kawano)
Public Relations IR Office (Tokyo)
TEL:03-3276-8676(Koike)

Inquiries from general customers

Consumer service
Toll-free: 0120-167874
(Reception time: Monday - Friday / 9:30-17:00)
*excluding holidays such as weekends and holidays, year-end and new year holidays