GUNZE SPORTS CO., LTD. (head office: Amagasaki, Hyogo, President: Masatoshi Hiroe), a consolidated subsidiary of GUNZE LTD. (Head office: Kita-ku, Osaka, President: Atsushi Hirochi) will strengthen overseas operation.
Following the "Gunze Sports Japan Athina (Location: Phnom Penh, Cambodia)" opened as the first overseas store in June last year, "Gunze Sports Japan AEON MALL Sen Sok City" which is the second overseas store has been opened also in Phnom Penh on June 11. By opening in AEON MALL, we will provide more convenient clubs and services.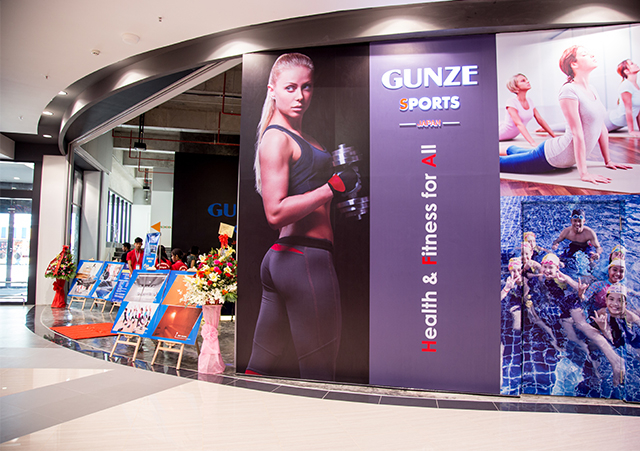 "Gunze Sports Japan AEON MALL Sen Sok City" Store appearance
Point of the development
GUNZE LTD. is focusing on health and medical fields that contribute to the improvement of the quality of life (QOL) of people in the medium-term management plan "CAN 20" until FY 2020. Among them, we are planning to develop multiple stores of sports clubs, and this time, we will open the second overseas store in the capital of Cambodia, which is growing remarkably among Southeast Asian emerging countries.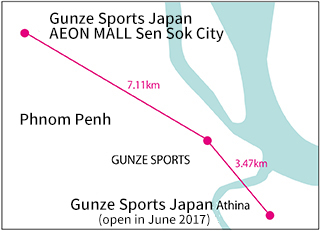 Location of Gunze Sports in Phnom Penh's
Point of the plan
Targeting the upper middle class in Cambodia, where economic growth is remarkable, we will provide the latest sports facilities against the increasing desire for exercise with increasing awareness of health. Also Gunze Sports Cambodia has been donating pool flags, pull buoys and beet boards to the Cambodian Swimming Association. Continue to the first store, we will operate a swimming school for children in Cambodia under developing toward future and contribute to the swimming world in Cambodia.
Outline
Location

Ground floor of AEONMALL Sen Sok City, #Bayarb Village, Phnom Penh Thmey Sen Sok District,Phnom Penh Capital, Cambodia.
Operated by

GUNZE SPORTS (CAMBODIA) CO.,LTD.
Total floor area

2,439㎡
Facilities

Pool (indoor), gym, studio, multipurpose room, locker room (shower booth, sauna), children locker room, lounge
Program

Fitness, swimming school
Features of Gunze Sports Japan AEON MALL Sen Sok City
・Provide Japan Quality service
・Many types and high frequency of the studio programs.
・Program instruction by the first certified Instructor in Cambodia
・Implementation of swimming school in indoor pool


(Left) Machine gym for various purposes
(Right) Men's sauna (Mist sauna for women)


(left) Open Studio for Body Makeup Program
(right) Locker room (Standard / Private)


(Left) Cambodia's first indoor heated pool where lessons will be held
(Right) Large studio where 60 people can participate
Homepage of GUNZE SPORTS
URL: http://www.gunzesports.com/
Homepage for GUNZE Sports (Cambodia) Co., Ltd.
URL: http://www.gunzesportskh.com/
Inquiries:
Inquiries from media

Gunze Limited
Public Relations IR Office
TEL:81-6-6348-1314
Gunze Sports Co., Ltd.
TEL:81-6-6423-4721

Inquiries from general customers

Consumer service Toll-free: 0120-167874
(Reception time: Monday - Friday / 9:30-17:00)
*excluding holidays such as weekends and holidays, year-end and new year holidays