Osaka-GUNZE Limited (Headquarters: Osaka, Japan, President: Atsushi Hirochi)[TOKYO:3002] is pleased to announce that GUNZE is selected as a constituent of SOMPO sustainability index by Sompo Asset Management Co.,Ltd.
"SOMPO Sustainable Management" is an investment product for pension funds and institutional investors that invests in a wide range of companies with a strong reputation for environmental, social, and corporate governance (ESGs). SOMPO Asset Management manages long-term investments based on its own SOMPO Sustainability Index, which is composed of approximately 300 companies with outstanding ESG-related initiatives. This index is reviewed based on a yearly ESG assessment. This is the 9 consecutive years that GUNZE's ESG-related initiatives were recognized and selected.
The Sustainability Index, which SOMPO launched in August 2012, is a socially responsible investment product for pension trust and institutional investors that invests broadly in companies with high evaluations for ESG (environment, society, governance). Unlike ordinary active indices for which constituents are chosen by fund managers, this index is a "buy and hold" style investment product for which the constituents are chosen with an emphasis on ESG evaluations by research companies, and allocations are decided based on a unique active index, the "SOMPO Sustainability Index." By actualizing management qualities and hidden risks that do not appear on financial statements, and by evaluating corporate value from a long-term perspective, the index seeks to contribute to asset formation for long-term investors.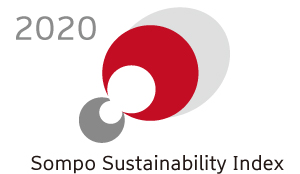 GUNZE group is seeking to further strengthen its activities in ESG for the 2nd phase of medium-term management plan, called "CAN 20"(from FY2017 to FY2021).
GUNZE's aim is to provide customers with a "Feeling of Comfort" and contributes to the improvement of people's quality of life through our products and services. With this firm determination, GUNZE is committed to enhancing customer satisfaction and corporate value by continuously serving as a company that fulfills the needs of society and that grows sustainably alongside society.
For further information, please contact:
Press

Gunze Limited
Corporate Communication Department
TEL: 81-6-6348-1314 (Nonaka, Yanagisawa, Tsubota)

Visit Homepage