Osaka-Gunze Limited (Headquarters: Osaka, Japan, President: Atsushi Hirochi) [TOKYO:3002] is pleased to announce that it has entered into an exclusive supply and distribution agreement with Misonix, Inc (Headquarters: Farmingdale NY, USA, CEO: Stavros Vizirgianakis, hereinafter Misonix) for TheraGenesis® Bilayer Wound Matrix, which is sold outside of the U.S. under the brand name PELNAC®. TheraGenesis is a proprietary, FDA cleared, porcine tendon derived collagen wound matrix with a silicone film layer used to treat trauma, burn and reconstructive wounds.
1. Background
Gunze obtained a medical device approval from Japan's Ministry of Health, Labor and Welfare in June 1993, and, since then, manufactures and sells PELNAC, a medical device to treat skin defects caused by third-degree burns, traumatic skin defect wounds, and skin defect after tumor or nevus removal (*Note 1).
More than sixty (60) percent of teaching hospitals in Japan have used PELNAC due to its superior effectiveness and safety characteristics. Since its launch, PELNAC has been helping health care providers achieve better clinical outcomes.
Under Gunze's global strategy, the company subsequently obtained regulatory approvals worldwide, including obtaining CE marking in Europe. Currently, PELNAC is available in Europe, the Middle East, South Africa, China, Korea, and Brazil. In pursuit of Gunze's global strategy, a premarket notification 510(k) was submitted to the FDA to bring PELNAC into the U.S. as the market with the most potential. Gunze obtained a 510(k) clearance from the U.S. FDA in April, 2020 and has been preparing for its product launch.
*Note1: The description is based on the approval under the Japanese Pharmaceuticals and Medical Devices Act, which is different from the FDA clearance in the U.S.
2. The exclusive supply and distribution agreement with Misonix
Misonix possesses a strong sales network in a wide network of medical fields. The company has minimally invasive therapeutic ultrasonic medical devices and regenerative tissue products and has established strong channels to market in the U.S. to drive sales of both its wound and surgical products. In recognition of the high product performances and clinical achievement of PELNAC throughout the world, Gunze has entered into an exclusive supply and distribution agreement with Misonix in the U.S., the world's largest market.
With this alliance and expansion of their product portfolio, it is possible to accelerate and expand the Misonix's current tissue regeneration wound portfolio of TheraSkin and SonicOne, offering a strong competitive entry into the xenograft skin substitute segment of the U.S. skin substitute market and enables Misonix to leverage the growth opportunities in healing chronic wounds as well as in treating trauma and burn wounds.
3. Marketing strategy
Gunze will strive for sales expansion in the U.S. as well as developing its markets in Europe, China, and Korea, targeting overseas sales of 1 billion yen in 2025.
4. About Gunze Limited
Gunze was founded in Kyoto, Japan in 1896, and today operates a diverse business as a leading developer and manufacturer of Medical Devices, Plastic Films, Engineering Plastics, Electronic Components, Apparel, and various others. Gunze employees more than 6,100 people worldwide throughout 10 countries.
The Medical Device business, established in 1985, has a substantial footprint over 35 countries. Its head office and manufacturing facility is located in Kyoto, Japan, and has subsidiaries in the U.S., EU, and China. By applying innovative fiber and polymer processing technologies, Gunze manufactures a comprehensive range of medical products focused on bioabsorbable and biocompatible materials such as skin substitutes, tissue reinforcement felt, bone fixation devices, dural substitutes, and suture thread. Gunze's mission will continue to be centered on advancing the quality of life of patients by providing innovative solutions to improve clinical outcomes.
5. About Misonix, Inc.
Misonix, Inc. (Nasdaq: MSON) is a provider of minimally invasive therapeutic ultrasonic medical devices and regenerative tissue products. Its surgical team markets and sells BoneScalpel® and SonaStar®, which facilitate precise bone sculpting and removal of soft and hard tumors and tissue, primarily in the areas of neurosurgery, orthopedic, plastic and maxillo-facial surgery. The Company's wound team markets and sells TheraSkin®, Therion®, TheraGenesis® and SonicOne® to debride, treat, and heal chronic and traumatic wounds in inpatient, outpatient and physician office sites of service. At Misonix, Better Matters! That is why throughout the Company's history, Misonix has maintained its commitment to medical technology innovation and the development of products that radically improve outcomes for patients.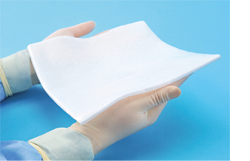 Figure: TheraGenesis®
For further information, please contact:
Press

Gunze Limited
Corporate Communication Department
TEL: 81-6-6348-1314 (Shinji Nonaka)


Visit Homepage