Osaka-Gunze Limited (Headquarters: Osaka, Japan, President: Toshiyasu Saguchi) [TOKYO:3002] has published an Integrated Report 2021 aiming for addressing social issues on a medium- to long-term basis through its sustainable management.
1. The reason for publishing the Integrated Report 2021
Gunze group is engaged in sustainable management and the report introduces a wide range of our value creation stories with a medium- to long-term basis and ESG's related activities. Regarding the financial strategy, the company explains its efforts to improve corporate value through cost-of-capital management. In addition, the company reports in detail on our efforts to address social issues through our business activities such as developing new products under Covid-19.
Gunze utilizes the report as a communication tool with our stakeholders and continues to work on further enhancing the corporate value through carrying on a constructive conversation.
2. The main contents of Gunze Integrated Report 2021
(1) Top Management Commitment
(2) Gunze Value Creation Story
(3) Materiality for the Gunze Group
(4) Sustainability Management
(5) Activity report in 2020

You can access the Gunze Integrated Report 2021:
https://www.gunze.co.jp/english/sustainability/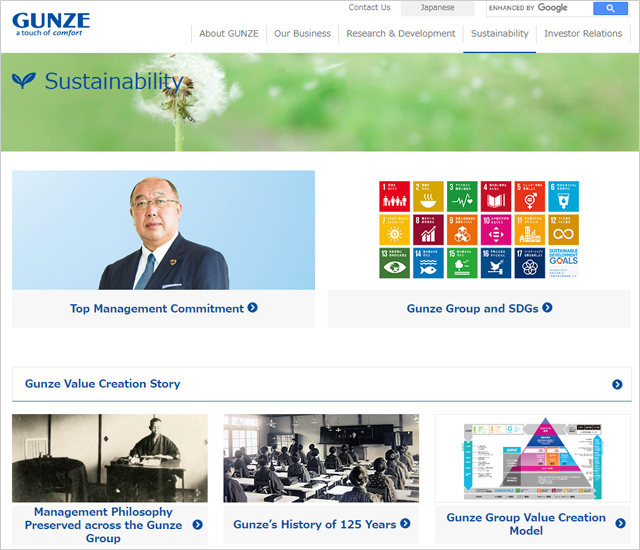 3. About Gunze
Gunze was founded in Kyoto, Japan in 1896, and today operates a diverse business as a leading developer and manufacturer of Plastic Films, Engineering Plastics, Electronic Components, Medical Devices, Apparel, and various other segments. Gunze employs more than 5,800 people worldwide throughout 10 countries.
With the aim to give back to the society in which the company operates, Gunze is determined to be a responsible corporate citizen by adhering to our founding philosophy that underscores a people-oriented approach, a commitment to quality, and coexistence.
For further information, please contact:
Press

Gunze Limited
Corporate Communication Department
TEL: 81-6-6348-1314 (Shinji Nonaka)


Visit Homepage