Osaka-Gunze Limited (Headquarters: Osaka, Japan, President: Toshiyasu Saguchi) [TOKYO:3002] is pleased to announce that the company has adopted a higher level of CO₂ emissions reduction target for FY2030 than a previous 26% reduction target which was set for greenhouse gas reduction in the current medium-term management plan "CAN20".
The newly CO₂ reduction target is 35% or over compared to FY2013 for the entire Gunze Group worldwide.
The Gunze Group was quick to incorporate the SDGs into its medium-term management plan. At the same time, in order to put our action plans into practice as speedily as possible, the company has identified those sustainability issues that have a significant impact on our corporate management, and specified them as "Gunze's important challenges" that we need to tackle with particular urgency as we work toward resolving social issues through our business. In order to achieve the target figures steadily, the company has set up a new section in headquarters and to be managed them.
The Gunze Group continues to address the environmental and climate change as an important management issue. And the company will work to resolve medium- to long-term social issues through making the best efforts to reduce the environmental impact and develop environmentally friendly products.
1.Updated Gunze's CO₂ emissions reduction targets
(1) Gunze set an in-house CO₂ emissions reduction target of 26% for FY 2030 under the current medium-term management plan. The in-house target includes both direct greenhouse gas (GHG) emissions (Scope1) and indirect GHG emissions associated with the use of energy supplied by other companies (Scope2) which is in accordance with the GHG Protocol (Note1).
The newly CO₂ emissions reduction target which is line with the GHG Protocol as well has been raised to 35% or more up from the previous target of 26%.

(2) In addition, Gunze has started monitoring supply chain CO₂ emissions which are indirect greenhouse gas emissions (Scope3) to reduce entirely CO₂ emissions in the new organization.
As a TCFD (Note2) supporter, Gunze has promoted calculating CO₂ emissions in the entire supply chain and analyzing scenarios in accordance with TCFD guidelines.
And the company will establish its long-term environmental target including reducing the supply chain CO₂ emissions and promote the reduction of CO₂ emissions in the entire supply chain during the new medium-term management plan starting in 2022.

(3) These target figures will be applied to the entire Gunze Group throughout the world.

(Note1) GHG Protocol establishes comprehensive global standardized frameworks to measure and manage greenhouse gas (GHG) emissions from private and public sector operations, value chains and mitigation actions. The range of CO₂ emission calculation is shown in 3 categories from Scope 1 to 3.
(Note2) TCFD was established by the Financial Stability Board in 2015 in response to a request from G20 leaders. It recommends that financial impacts of risks and opportunities created by climate change on business management should be assessed and disclosed by including governance, strategy, risk management, and metrics and targets as core elements of disclosures.
2. CO₂ emissions reduction roadmap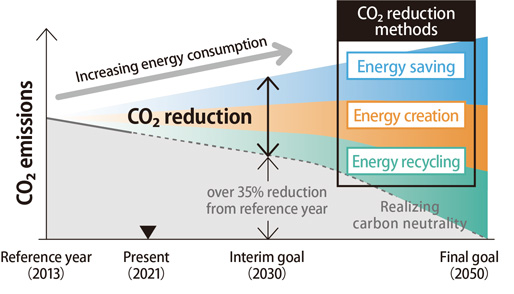 The Gunze Group will take the following methods to reduce CO₂ emissions.
(1) Energy saving
Reducing energy consumption by updating equipment to increase energy efficiency.
・Shifting to low CO₂ emission fuels.
・Shifting to higher efficiency utility equipment.
・Switching to energy-efficient LEDs.
・Energy-saving through new structures with airtight and thermal insulation.
・Visualizing energy use with FEMS (Factory Energy Management System)
(2) Energy creation
Expanding solar energy use and deploying energy storage technology.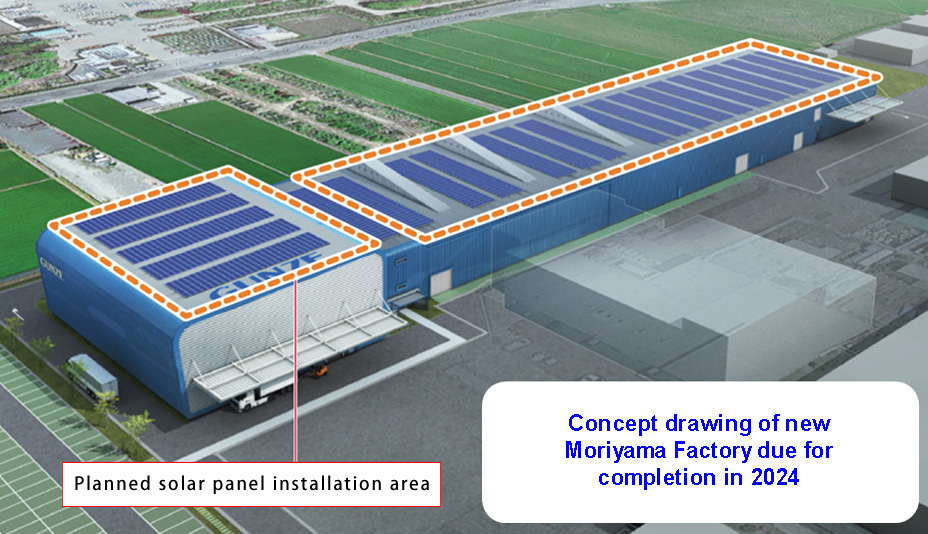 (3) Energy recycling
Use of CO₂-free menu (Note3) and promoting use of renewable energy sources free from CO₂ emissions during power generation (zero CO₂ emission coefficient).

(Note3) Sales of CO₂-free electricity by utility companies
3. About Gunze
Gunze was founded in Kyoto, Japan in 1896, and today operates a diverse business as a leading developer and manufacturer of Plastic Films, Engineering Plastics, Electronic Components, Medical Devices, Apparel, and various other segments. Gunze employs more than 5,800 people worldwide throughout 10 countries.
With the aim to give back to the society in which the company operates, Gunze is determined to be a responsible corporate citizen by adhering to our founding philosophy that underscores a people-oriented approach, a commitment to quality, and coexistence.
For further information, please contact:
Press

Gunze Limited
Corporate Communication Department
TEL: 81-6-6348-1314 (Shinji Nonaka)


Visit Homepage